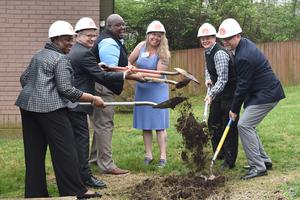 April 5, 2019 – Mayor David Briley and Council Member Sharon Hurt joined Nashville nonprofit Mending Hearts and the Tennessee Housing Development Agency (THDA) for a grant announcement and groundbreaking ceremony.
The Tennessee Housing Trust Fund grant of $437,190 will provide safe housing to women who are at risk of homelessness. This grant was one of six totaling just over $2.1 million that were awarded during the Fall 2019 round of the competitive grant program.
The Nashville nonprofit will use the funding to build an eight-bedroom transitional living facility to help women who are ex-offenders, including those with addiction and mental health issues, are homeless, or very-low income.
Mending Hearts has combined the grant with funding from additional sources to complete construction of the new 8 bedroom house.
THDA Executive Director Ralph M. Perrey said the home will provide much needed stability for the women who will live there.
"We know that access to safe, secure housing can make a positive difference for people who are trying to get their lives back on track," Mr. Perrey said. "THDA is pleased to again provide funding to Mending Hearts that will allow them to complete much-needed projects like this one."
"Thank you so much for taking the time to lift up the lives of so many women that are or may be lost in the cycle of homelessness," said Mending Hearts CEO Trina Frierson. "Because of your giving and dedication to become a part of the solution to this huge crisis, Mending Hearts' capabilities to help women feel at home has just gotten better. Women will enter onto our program with heads held high and know that even through the bad times; they are still women of worth. We are grateful for THDA's support of Mending Hearts as we help women in need."
Residents of the facility will receive counseling and other supportive services during their stay.
In 2018, THDA awarded Mending Hearts a $395,462 Tennessee Housing Trust Fund grant to build a group home to house 8 women who are ex-offenders participating in its addiction recovery program who were homeless or at risk of becoming homeless.
Mending Hearts provides a continuum of evidence-based services to help women in recovery go from homelessness to full community reintegration, including intense case management, employment counseling and placement, education and job training, and relapse prevention.
The Tennessee Housing Trust Fund (THTF) was created by the THDA board of directors to provide financial support for innovative, affordable initiatives that serve the housing needs of Tennessee's most vulnerable residents.
Funding for the Tennessee Housing Trust Fund comes entirely from earnings generated through THDA's Single Family Mortgage program. THTF grants are awarded through a competitive application process. Since 2006 THDA has provided over $73.2 million in THTF grants to local governments and nonprofit organizations across the state.
Ground Breaking (L to R): At Large Council Member Sharon Hurt, Mayor David Briley, Mending Hearts President/CEO Trina Frierson, Mending Hearts Vice President Charlotte Frierson, Mending Hearts Chair Kristy Seaton, THDA Director of Community Programs Don Watt