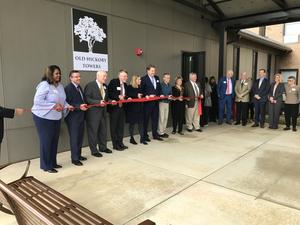 The renovation project touched all 217 apartment homes at the Nashville property, thanks in part to $9 million in tax credit financing from the Tennessee Housing Development Agency.
Nashville Mayor Megan Barry and Rep. Bill Beck were on hand to celebrate.
"By investing in the renovation of Old Hickory Towers, THDA is helping protect the quality of life of more than 200 Tennesseans in their golden years, and at the same time, we're also ensuring they're able to afford a safe and beautiful place to call home for many years to come," said THDA Executive Director Ralph M. Perrey, who helped cut the ribbon at the celebration.
The renovation project was completed by Freeman Webb, which manages the property. In exchange for tax credit financing from THDA, Old Hickory Towers must continue to remain affordable to low-income residents, including seniors and individuals with disabilities, for a minimum of 30 years.
"We're committed to protecting these homes and showing everyone who lives here how much we value them as neighbors and members of our community," said Rep. Beck.
Pinnacle Bank, American Housing Preservation Corp., and the Metropolitan Development & Housing Authority also provided financing for the renovations.
Located near where Old Hickory Boulevard turns into Robertson Road, Old Hickory Towers was originally built in 1978. The property offers one- and two-bedroom floorplans with disability access and emergency call systems. Amenities on the property include a coffee bar, fitness center, and billiards room.
The Low Income Housing Tax Credit (LIHTC) program was created under President Reagan to incentivize the private sector to build and/or renovate apartments for people who earn significantly less than the area's average annual income. THDA administers the federal program at the state level in Tennessee, including allocating tax credits and monitoring compliance.