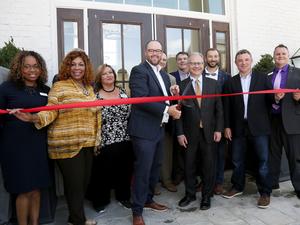 NASHVILLE (June 27, 2019) – Robinson Flats, a new 209-unit affordable, senior living community in Old Hickory, celebrated its grand opening today.
"When residents reach their senior years, it is especially critical that they have access to safe, affordable housing. This is one of many reasons why I launched my affordable housing plan, Under One Roof 2029, earlier this year," Mayor David Briley said. "I want to thank MDHA, THDA, and everyone who made this project possible for our seniors in Old Hickory."
The newly constructed Robinson Flats, consisting of one and two-bedroom apartments and cottages, was developed by Elmington Capital Group and was financed in part with $18 million in Tax Exempt Multi-Family Bonds from the Tennessee Housing Development Agency (THDA).
"We are excited about the opening of Robinson Flats and providing a new housing opportunity for seniors in Old Hickory." Partner Hunter Nelson says, "Robinson Flats will help address Nashville's dire need for affordable housing, which has only grown more acute in recent years. We appreciate the vital partnership of the Mayor's office, Councilman Larry Hagar and Metro Council, MDHA and THDA, who together made this development possible."
Elmington Capital Group is a privately owned commercial real estate investment and development firm headquartered in Nashville, Tenn. Elmington and its affiliates employ more than 800 people who manage 30,000 apartment units and more than 1 million square feet of commercial space.
"THDA is proud to be a partner in projects like this that provide much needed quality, affordable housing for seniors," said THDA Community Outreach Liaison Denise McBride.
The Tax Exempt Multi-Family Bond program was created to help private sector developers finance the construction or preservation of affordable rental housing. In exchange for using bond financing to help cover construction costs, apartment communities must keep rent affordable to elderly or disabled residents who make 50-60 percent of the Area Median Income (AMI) or less. In Tennessee, the bond program is administered by THDA.
For more information on the Robinson Flats community visit, robinsonflats.com.