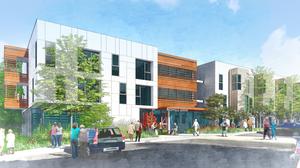 May 14, 2018 – The Tennessee Housing Development Agency is calling a Nashville nonprofit's plans to build an $11.3 million apartment building for low-income seniors "one of the most interesting developments we've ever funded."
Those are the words of THDA's Director of Multifamily Development Donna Duarte when she announced her agency would award Urban Housing Solutions with $11 million in tax credits to help fund construction of the 55-unit affordable housing facility at the corner of 26th Avenue and Clarksville Pike in North Nashville.
"The plan put together by Urban Housing Solutions will not only address the critical issue of housing affordability for seniors but also the affordability of healthcare, transportation, and other daily needs for the people who live here," said Duarte.
As part of its construction plan, Urban Housing Solutions will install sophisticated sensors to detect falls and potential injuries to residents, as well as provide automated medication reminders and monitor potentially dangerous appliances such as stoves. A service coordinator will be employed at the property to help residents take advantage of amenities and services, and part of the commercial space on the ground floor is slated for on-site healthcare services.
"We're creating a community that promotes an active and healthy lifestyle because our residents are going to be people with deep roots in the community, and we want them to remain independent and active in the community for as long as possible," said Brent Elrod, Director of Planning & Development for Urban Housing Solutions.
The new apartment building for seniors is "Phase III" of Urban Housing Solutions' plans for the property. Phase I, which was completed in March 2017, and Phase II, which is about to break ground, together will offer 86 mixed-income apartments, as well as commercial space and workspace for artists living at the property.
"By design, this is going to be a vibrant, intergenerational community that inspires—and is inspired by—the arts," said Elrod.
"This is going to be a beautiful place to live, close to shopping and convenient to bus lines," said Duarte. "We also anticipate that it's going to reduce the need for costly hospital visits and even nursing home admissions, because residents are going to find the services and care they need to stay safe and healthy."
The property will offer one-bedroom apartments to people at least 62 years of age and earning no more than 50 percent of the area's median income. By the rules of the tax credit program, the maximum rent cannot exceed limits set by the U.S. Department of Housing & Urban Development (HUD).
Furthermore, Urban Housing Solutions has received provisional approval for at least 52 Project-Based Vouchers from Nashville's Metropolitan Development & Housing Agency (MDHA). By the rules of this program, if a resident's total rent and projected utility bills exceed more than 30 percent of their monthly income, HUD will provide a monthly subsidy to cover the excess.
"With this assistance, even our poorest residents will still have the majority of their income left each month for food, medicine, and other needs," said Elrod.
THDA reports that 59 percent of low-income seniors who rent in Tennessee are "cost-burdened," meaning their housing and utility costs exceed 30 percent of their monthly income.
In addition to funding from THDA's tax credit program, Urban Housing Solutions plans to finance its Phase III construction with a loan from Pinnacle Bank.
Urban Housing Solutions secured its $11 million in Low Income Housing Tax Credits as part of the THDA's 2018 Innovation Round of tax credit awards. The Innovation Round provides an opportunity for private and nonprofit developers to earn tax credits for construction and/or renovation projects that include social services on site or offer other unique advantages to low-income residents.
The Low Income Housing Tax Credit (LIHTC) program was created under President Reagan to incentivize nonprofits and the private sector to build and/or renovate apartments for people who earn significantly less than the area's average annual income. THDA administers the federal program at the state level in Tennessee, including allocating tax credits and monitoring compliance.